ChiroThin™ is a natural dietary supplement. Its formula contains a host of nutritional ingredients that are well known to aid in fatty acid transportation, fatty acid metabolism, and blood sugar stabilization, as well as increase metabolism and detoxification. When ChiroThin is combined with a healthy and specific anti-inflammatory diet your body will be more efficient at converting stored fat into energy.

In general, ChiroThin allows the body to more efficiently metabolize unhealthy body fat and use it as energy when an individual consumes fewer calories than he or she burns in a given period of time. The ChiroThin formula was designed to include specific amounts of amino acids, vitamins, and cell salts for further added benefits (there are absolutely no drugs/ hormones incorporated into this program). Additionally, the ChiroThin Weight Loss Program includes dietary and behavioral modification guidance, as well as a strategy to help maintain long-term weight loss success.
Our office added the Doctor-Supervised ChiroThin Weight Loss Program over 10 years ago and have witnessed phenomenal transformations that have far exceeded weight loss! If you are serious about losing weight and regaining your health, this is absolutely the right place and program for you!
Call the office to schedule a complimentary consultation with one of the doctors to learn if you are a candidate for one of our various ChiroThin Program Packages. Continue scrolling to read a few of our inspiring patient testimonials!
---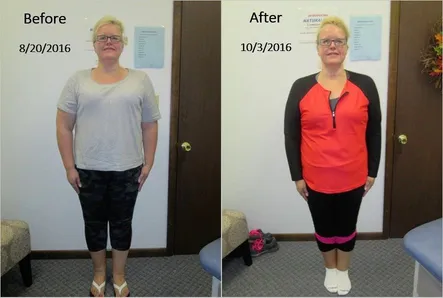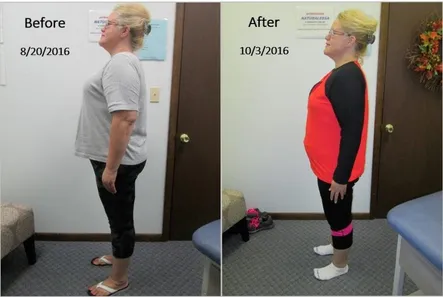 The woman pictured above started her weight-loss journey at Fay-West Chiropractic Health Center in the fall of 2016. Over the course of 6 weeks, she lost 32 pounds and 24.5 inches off of her shoulders, chest, waist, hips and upper thighs! Her BMI went from 40 down to 35!
She has tried losing weight in the past, but has never seen such significant changes in 6 short weeks! This is only the beginning for her, as she plans to complete another 6 weeks of the Doctor-Supervised ChiroThin Weight Loss Program again soon!
This is how absolutely anyone can become a healthier individual, as being overweight leads to many debilitating chronic illnesses (high blood pressure, diabetes, heart disease, etc.).
---
Kathy's Story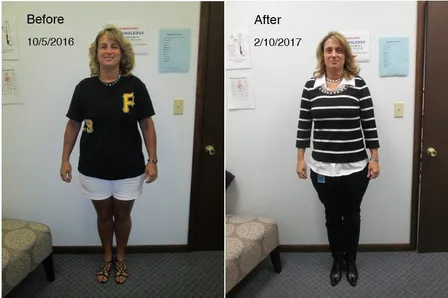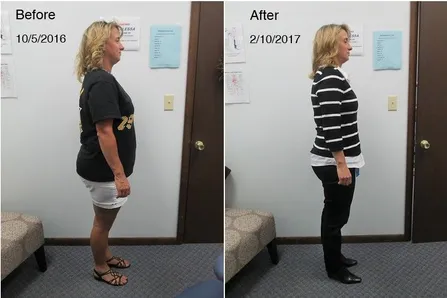 Kathy, pictured below, has a weight-loss story that resembles many others. Before coming to our office, Kathy had tried several popular weight-loss programs, fad diets, and strict personal trainers to lose weight. She became frustrated because the minimal weight she was losing would return quickly & the intense workouts were actually causing her to gain body inches, not lose them.
After learning about our Doctor-Supervised ChiroThin Weight-Loss Program at Mt. Pleasant's Glass & Ethnic Festival, Kathy made her first appointment. After two 6-week programs spread over four months, Kathy has lost a total of 45.8 lbs and 36.5 total inches! Her BMI dropped from 33 to 27! Her blood pressure has lowered to 116/78 from 142/96! And most dramatically, Kathy has not felt the need for her asthma or heart burn medication since finishing her two rounds of the ChiroThin program! ChiroThin is so much more than a weight-loss program...it can give you your old life back!
---
Mike's Story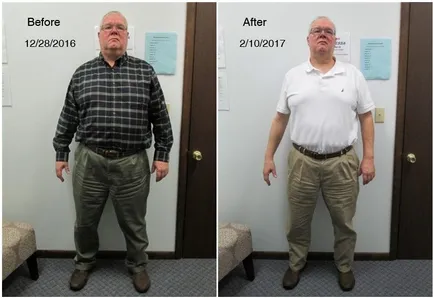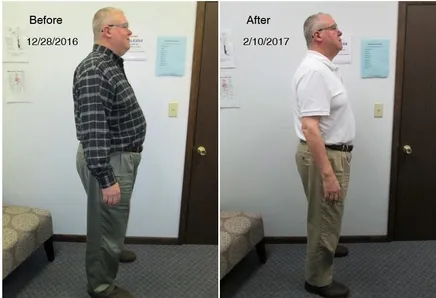 Mike, pictured above, participated in our clinic's ChiroThin Gold Program and had results that went above and beyond weight-loss and smaller sizes. After attending one of our Weight-Loss Workshops & talking with other successful patients, Mike decided that this program was the right choice for him.
After 6 weeks, Mike lost 42 lbs (this equates to 1 pound lost every single day for 6 weeks!!) and 20.5 total inches! At the start of the program, Mike's morning blood sugar averaged 120-130 mg/dL. At the program's completion, Mike's morning blood sugar was consistently between 80-90 mg/dL! This dramatic change will reduce his dependency on his medications & his chances of developing type 2 diabetes!
Taking Mike's story a step farther, the week after he completed our ChiroThin program, he and his wife celebrated with a few of their old favorites: lasagna and wings. The days following both meals, Mike felt sluggish and simply miserable. Returning to his old style of eating was no longer a possibility in his eyes because he had fully realized the intimate connection between what he eats & how he feels! Congratulations, Mike!
---
Nancy's Story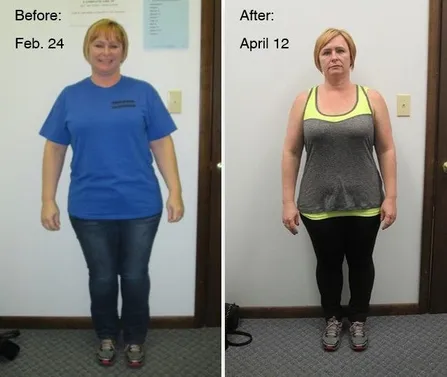 Nancy, pictured above, recently completed our Doctor-Supervised ChiroThin Weight-Loss Program and she has an inspiring story to tell! She was referred to our office by a friend who had also completed the program at our facility and boasted great results (see Kathy's story above). After visiting our office, learning about the ChiroThin Program firsthand, and seeing the results that were possible from her friend's transformation, Nancy knew this was for her!
After 6 weeks of working with our office, it was Nancy's turn to boast her own incredible results! The pounds and inches came off as expected (25.8 lbs & 24 total inches), her BMI dropped 4 points, and her body fat dropped 5%. Still, Nancy started to notice additional changes that were a bit surprising...
During those 6 weeks, it became easier for Nancy to wake up in the morning because she was getting better quality sleep. She had sustained energy throughout the workday without the ups and downs of caffeine and sugary snacks. Her fingers and face had dramatically less swelling, her chronic hip and mid-back pain lessened, her headaches weren't bothering her anymore, and the heartburn that was controlled with medication was no longer was an issue.
It's no secret that the benefits of a healthy diet are far-reaching, but over time our aches and pain become our new 'normal.' We forget that the sluggishness every afternoon wasn't always present. We forget what waking from a good night's sleep feels like. We forget that our blood pressure/ blood sugar wasn't always elevated…
Our Doctor-Supervised ChiroThin Weight-Loss Program does so much more than slim you down. It re-introduces you to your younger, healthier self.
Congratulations, Nancy!!
---
Beth's Story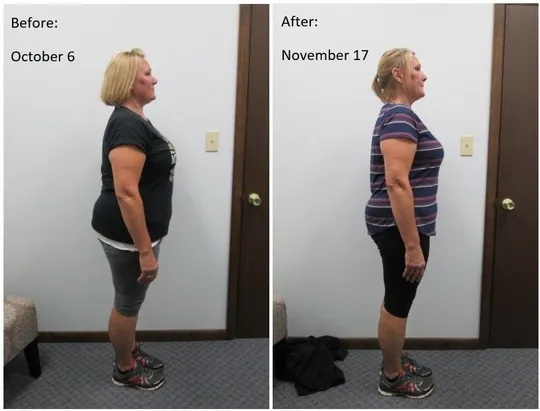 Beth's exciting weight-loss journey started in September when she visited the Mt. Pleasant Glass Festival. She stopped at the ChiroThin Weight-Loss booth and talked with our office about how our office does weight-loss differently than others—without shakes, surgeries, exercise, and pre-packaged foods.
Beth's story sounded like many others. She had tried to lose weight on her own for years (Weight Watchers & 3-Day Military Diet, etc.) but could never lose much. The little that she lost would always quickly return. She wanted to be healthier but was frustrated by the up and down process.
After completing the Doctor-Supervised ChiroThin Weight-Loss Program, Beth had lost 27.4 lbs & 15.75 total body inches in 42 days! Her blood pressure lowered, her BMI dropped by 4 points, and her heart burn greatly improved!
It's amazing what six short weeks can do for your immediate & long-term health! Congratulations, Beth!
---
Scott & Kristin's Story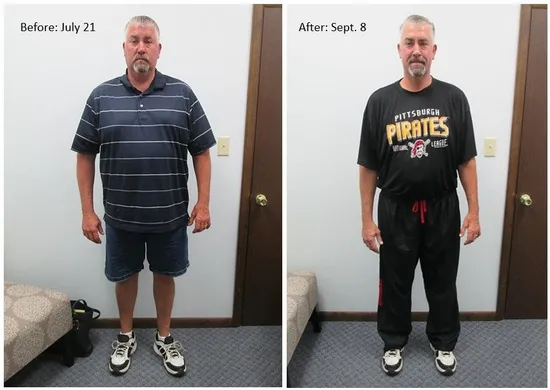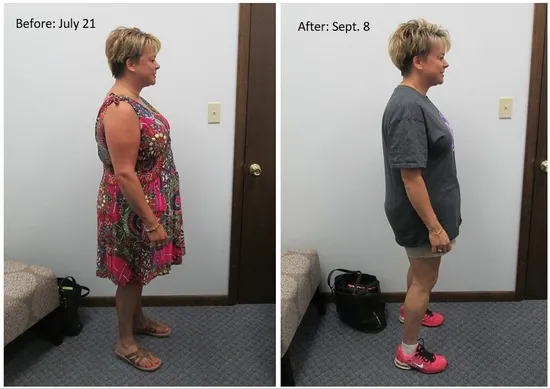 This husband and wife duo are a classic example of how a busy, crazy, hectic everyday-life full of work and kids can lead to unhealthy choices. Eventually these convenient, yet unhealthy choices cause unwanted weight gain and potentially serious complications (high blood pressure, type II diabetes, sleep apnea, etc.). This is what Kristin & Scott had been dealing with for years, but they wanted to make a change as a family.
They first heard about our ChiroThin Weight-Loss Program from Dr. Homonai and decided to dig a little deeper to determine if it was the right fit for them. After sitting down with our office and having the Doctor-Supervised Program thoroughly explained, they decided to go for it!
After the first week, the couple had lost 26 lbs! By the end of the six-week program, they had collectively lost 70 lbs, 45 total body inches, and lowered their BMI 10 points!
Truly phenomenal! Scott's blood pressure fell from 147/89 (stage 1 hypertension) to consistent, weekly readings below 115/70! His fasting blood glucose (sugar) levels ranged between 160-170 mg/dL before starting the ChiroThin Program, but these readings also fell and stabilized below 100 mg/dL, a level that is considered to be in the normal range. Scott was able to make these changes naturally, while decreasing/ eliminating his dependency on prescription medication!
Kristin too was able to significantly lower her blood pressure, while boasting more restful sleep, increased energy & focus while at work, and a significant reduction in her chances of developing type II diabetes from a previous pre-diabetes diagnosis.
These are BIG changes that are possible in as little as six short weeks! Congratulations to you both!
---
Nathaniel's Story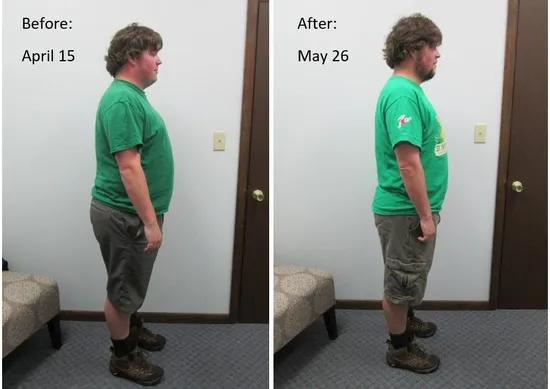 Who says summer isn't a good time to reclaim your health through weight-loss? Nathaniel recently completed his 8-week ChiroThin Weight-Loss Program with our office and the changes were BIG!!

It was late March when Nathaniel attended one of Fay-West Chiropractic's weight-loss workshops to learn more about the ChiroThin programs. Like many others that walk through our doors, Nathaniel saw the inspiring testimonials online and knew of a few people who had successfully completed the program. After talking with our office about the program's safety and effectiveness, he was ready!

Six weeks later, Nathaniel had lost 41 pounds & 20 total body inches! His body fat percentage dropped 6% and his BMI dropped 5.5 points!! Now that the program has ended, Nathaniel's new weight has stabilized and he continues to maintain his inspiring results!
Congratulations, Nathaniel!!
---
Heather's Story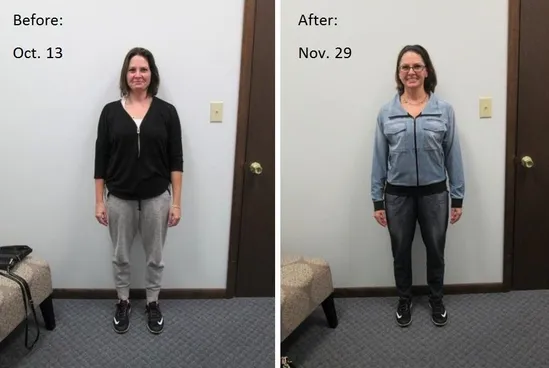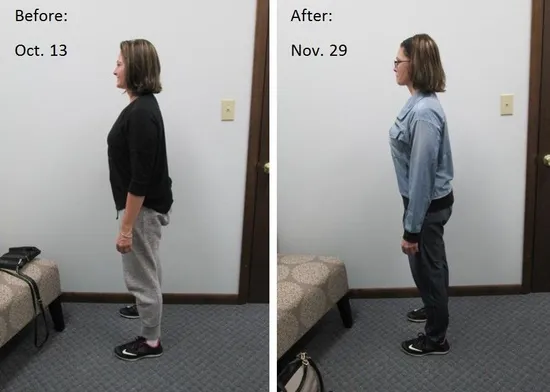 Heather wanted a kick-start to a healthier life! She also wanted to feel more like herself again (organized, productive, energetic, fully engaged & attentive at work, etc.). Heather has had a mild struggle with her weight over the last three years and has been suffering from several gastro-intestinal ailments over the years (Irritable Bowel Syndrome, GERD/ heart burn, and a previous gallbladder removal). These ailments make eating/ digesting foods difficult at times. After talking to a friend who participated in our Doctor-Supervised ChiroThin Weight-Loss Program, Heather was excited and ready to start!
After six weeks, Heather dropped 17.8 lbs and 10.5 total body inches and her BMI was within the normal range (down 2.4 points)! In addition, like all previous ChiroThin patients, Heather saw some other very exciting changes besides the dramatic weight-loss…
She can now sleep using just a single pillow instead of a stack to reduce her heartburn/ GERD!
She greatly reduced her daily medications that helped control her chronic ailments.
She can think more clearly and more quickly now; no longer in a mental fog.
Also, her chronic back and knee pain has improved considerably (no longer eating inflammatory foods that cause pain in those areas).
Congratulations, Heather!